Together with Dreamworks Animation led by producer Bill Damaschke, Neal Street developed Shrek the Musical for the stage. It Premiered in Seattle in the summer of 2008 en route to its December Broadway opening, followed by its West End opening in May 2011. After two successful years at Theatre Royal Drury Lane, Shrek the Musical embarked on two nationwide UK tours, which Neal Street produced with Playful Productions. This universal story continues to delight nationwide audiences wherever it is seen. It's presence in the USA touring markets has been a constant since opening in Chicago July 2010. Most recently Shrek opened in Sydney Australia January 2020.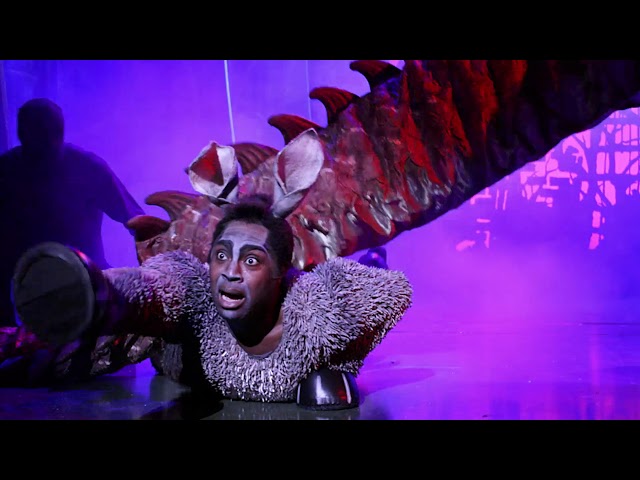 Winner of 1 Olivier Award and a Tony Award
See more >
About
William Steig's original book, written for his grandchildren, was the inspiration of the first of the animated Shrek stories made by Dreamworks Animation. The story of a lonely green ogre banished from home, who finds happiness and love in his friendships with similarly outcast secret ogre, Princess Fiona, and the indefatigably cheerful but lonely Donkey. In the hands of Jeanine Tesori and Davis Lindsay-Abaire who wrote the music, book and lyrics, the stage musical resonated afresh with its humour, humanity and awareness of political challenge for those living on the outside of society. Their celebrated score is now performed world-wide and includes the classic anthems "Big Bright Beautiful World", "Forever", "Who I'd Be" and "This is Our Story", together with ever-popular rousing pleasers "I Got You Beat" and the "Ballad of Lord Farquaad".
Key Creatives & Cast
Key Creatives:
Based on the 2001 DreamWorks film Shrek and William Steig's 1990 book Shrek!
Book and lyrics by David Lindsay-Abaire
Music and lyrics by Jeanine Tesori
Directed by Jason Moore and Rob Ashford
Set and costume design by Tim Hatley
Choreography by Josh Prince
UK National Tour directed by Nigel Harman
Original Broadway Cast: November 2008
Brian D'Arcy James
Sutton Foster
Daniel Breaker
Christopher Sieber
Original London Cast: May 2011
Nigel Lindsay
Amanda Holden
Richard Blackwood
Nigel Harman
Original UK Tour Cast: July 2014
Dean Chisnall
Faye Brookes
Idriss Kargbo
Gerard Carey
Original Cast for Second UK Tour: December 2017
Steffan Harri
Laura Main
Marcus Ayton
Samuel Holmes
Reviews
"Enchanted by Shrek. Magic. Feelgood."
The Times
"Hysterically funny. Glorious. This is the show that leaves rivals green with envy."
The Independent
"Shrektacular. A great show for all the family."
Sunday Telegraph