In a co-production with Sonia Friedman Productions and the Royal Court Theare, Jez Butterworth's epic play, The Ferryman, began at the Royal Court Theatre where it had its World Premiere on 24th April, 2017.
It was the fastest selling play in the theatre's history, transferring to the Gielgud Theatre, for a twice-extended run from 27th June, 2017 where it played to capacity houses for nigh on a year, with three companies of actors, and won multiple awards.
The production transferred to the Bernard B. Jacobs Theatre on Broadway, begining previews on 2nd October, 2018 and ran through to the 7th July, 2019.
The Ferryman won four Tony Awards: Best Play, Best Direction of a Play, Best Scenic Design and Best Costume Design; and three Olivier Awards: Best New Play, Best Actress and Best Director.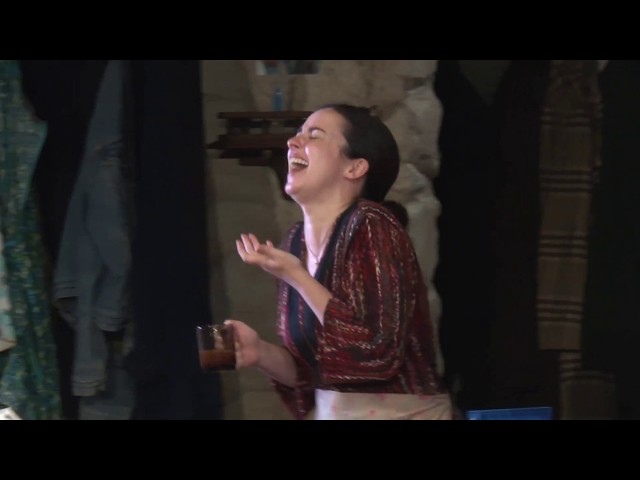 Winner of 3 Olivier Awards & 4 Tony Awards and more
See more >
About
It's harvest time in the Carney household and spirits are high. Three generations swirl around the kitchen, including rabbits, a goose and a baby.
But there are ghosts at this feast. This is Northern Ireland, 1981. In the Maze prison, the IRA hunger strikers are dying. Out on the bog, a body has been dug up. Butterworth draws turmoil into the farmhouse, defining just how inextricably this family is entangled in Ireland's bloodstained past.
"No matter what sort of spread you've planned for your Thanksgiving dinner, it won't be a patch on the glorious feast that has been laid out at the Bernard B. Jacobs Theater. That's where Jez Butterworth's thrilling new play "The Ferryman" opened on Sunday night, with a generosity of substance and spirit rarely seen on the stage anymore.
There is, for the record, a whopping celebratory meal at the center of this endlessly vibrant work, directed with sweeping passion and meticulous care by Sam Mendes. Its main course is a goose, which has figured as a living creature in earlier scenes, and the repast appears to be more than enough to feed the 17 revelers gathered at an overladen table in rural Northern Ireland in 1981.
But the real sustenance provided here comes from the sheer abundance within a work that picked up most of the awards on offer during its London run last year. This is theater as charged and cluttered and expansive as life itself. And the three and a quarter hours and 21 speaking parts required to tell its story — which is at once a shivery suspenser, a hearthside family portrait, a political tragedy and a journey across mythic seas — barely seem long enough to contain all it has to give us." Ben Brantley, New York Times
Key Creatives & Cast
Key Creatives:
Written By Jez Butterworth
Directed by Sam Mendes
Designed by Rob Howell
Lighting Design by Peter Mumford
Composed and Sound Design by Nick Powell
Original Cast:
Paddy Considine
Laura Donnelly
Genevieve O'Reilly
Stuart Graham
John Hodgkinson
Gerard Horan
Dearbhla Molloy
Brid Brennan
Turlough Convery
Fra Fee
Tom Glynn-Carney
Des McAleer
Conor MacNeill
Rob Malone
Carla Langley
Eugene O'Hare
Niall Wright
Clara Murphy
Angel O'Callaghan
Elisa Alexandre
Sophia Ally
Darcey Conway
Grace Doherty
​Michael McCarthy
Xavier Moras Spencer
Productions
The Royal Court, London. 24th April - 20th May, 2017
Gielgud Theatre, West End. 27th June, 2017 - 19th May, 2018
Bernard B. Jacobs Theatre, Broadway. 2nd October, 2018 - 7th July, 2019.
Reviews
"The 23-strong ensemble respond with a tapestry of beautiful detailed performances"
Financial Times
"Miss this and you've missed a marvel"
Daily Telegraph
"Butterworth and Mendes deliver shattering tale of passion and violence"
The Guardian