The Lehman Trilogy was commissioned by Neal Street Productions in 2016 for Sam Mendes to develop. It was forged at the National Theatre Studio for a co-production with the National Theatre and the Park Avenue Armory, NYC.
Ben Power's English adaptation of Stefano Massini's original, Italian, masterpiece is told in three parts on a single evening, with three actors playing the Lehman Brothers, their sons and grandsons.
World Premiere on the 12th July, 2018 at the Lyttelton Theatre, National Theatre, London.
North American Premiere at the Park Avenue Armory in New York, 22nd March, 2019.
The production transferred to the West End for a run at the Piccadilly Theatre, May to August 2019, playing to audiences of 132,000 in sixteen weeks.
Producers: Neal Street Productions and National Theatre Productions.
The Lehman Trilogy was then re-made for the Nederlander Theatre on Broadway, intended for a sixteen week season opening on 26th March, 2020. The original cast performed just four previews before shutting down due to the coronavirus pandemic.
In June 2021 it was announced that The Lehman Trilogy would be returning to Broadway with new cast member Adrian Lester making his Broadway debut alongside returning original cast members Simon Russell Beale and Adam Godley.
For just 99 performances only, The Lehman Trilogy will resume performances on 25th September with Opening Night taking place on 14th October 2021. For tickets and more info visit: https://qa.spotcointeractive.com/websites/lehman/
Following its Broadway run, The Lehman Trilogy will perform at the Ahmanson Theatre in Los Angeles and the Geary Theater in San Francisco in 2022, with casting to be announced.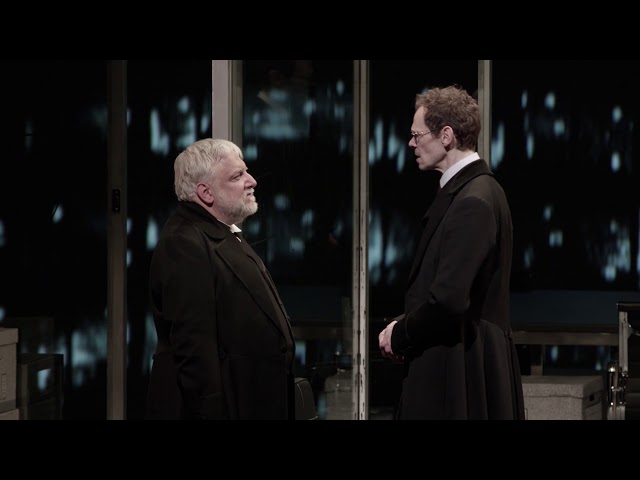 About
The Lehman Trilogy is a story of a family and a company that changed the world, told in three parts on a single evening. On a cold September morning in 1844 a young man from Bavaria stands on a New York dockside. Dreaming of a new life in the new world. He is joined by his two brothers and an American epic begins. 163 years later, the firm they establish – Lehman Brothers – spectacularly collapses into bankruptcy, and triggers the largest financial crisis in history.
Key Creatives & Cast
Key Creatives:
Written by Stefano Massini
Adapted by Ben Power
Directed by Sam Mendes
Set Design by Es Devlin
Costume Design by Katrina Lindsay
Video Design by Luke Halls
Lighting Design by Jon Clark
Composed and Sound Design by Nick Powell
Movement by Polly Bennett
Company Voice and Dialect Work by Charmian Hoare
Music Director & Pianist Candida Caldicot
Associate Director Zoé Ford Burnett
Original Cast:
Simon Russell Beale
Adam Godley
Ben Miles
Broadway Cast:
Simon Russell Beale
Adam Godley
Adrian Lester
Productions
Nedelander Theatre, Broadway. September 2021 – January 2022
more >
Piccadilly Theatre, West End. May - August 2019
Park Avenue Armory, New York. March - April 2019
National Theatre, London. July - October 2018